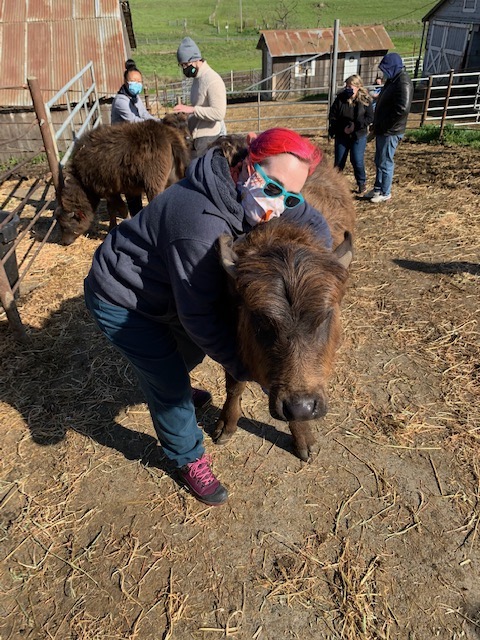 Updated: now with video!
First, the important stuff: here's the repo with a big old markdown file of commands and how to use them. It also includes my talk slides, which duplicate the markdown (just with a prettier theme, in the way of these things).
Second: I went to the Lookout Security Bootcamp in 2017, one of my first forays into security things (after some WISP events in San Francisco and DEF CON in 2016). That's where I conceived of the idea of this talk. There was a session where we used Trufflehog and other command line tools, and we concluded with a tiny CTF. Two of the three flags involved being able to parse files (with grep, among other things), and I was familiar with that from my ops work, so I won two of the three gift cards up for grabs. I used the money to buy, as I remember, cat litter, the Golang book, and a pair of sparkly Doc Martens I'd seen on a cool woman in the office that day. I still wear the hell out of the boots, including at DEF CON, and I still refer to them as my security boots.
I spent the rest of that session teaching the rad women around me the stuff I knew that let me win those challenges. This had two important effects on me. The first was that I thought, "Wait, it might be that I have something to offer security after all." The second was that I wanted to do a session someday and teach these exact skills.
I went to Day of Shecurity in 2018 and 2019 too. It's a fabulous event. At the last one, just a handful of months before we all went and hid in our houses for more than a year, I went to a great session on AWS security (a favorite subject of mine) by Emily Gladstone Cole. And I thought: oh, there it is. I'm ready. I told my friends that day that I wanted to come back to DoS as a presenter. And I pitched the session, it got accepted, and after a fairly dreamless year, one of mine came true.
So if you're reading this: hello! These events really do change lives. The things you do really can bring you closer to what you want. And, as I like to say in lots of my talks, there is a place for you here if you want to be here. We need you. Keep trying.
I wrote about my own journey into security here. Feel free to ask questions, if you have them! I love talking about this, and I would like to help you get to where you want to go.